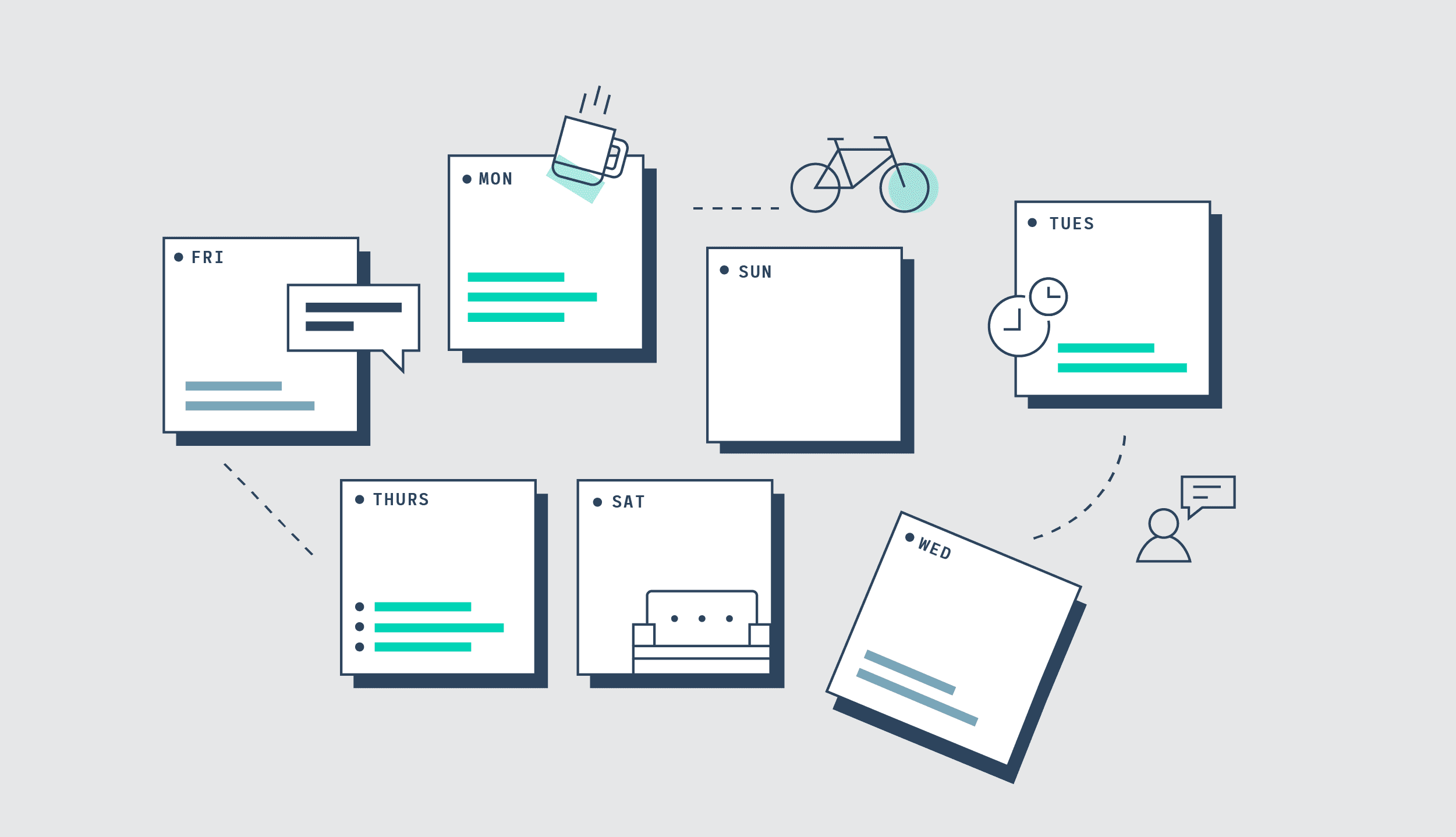 Remote how-to's | Blog Post
Remote Work Experts on Today's #WFH Struggles and Solutions
Even for remote work veterans, the circumstances surrounding working from home today are putting a strain on everyone.
Though working from home certainly boosts productivity for many, our sudden tectonic shift towards remote work due to COVID-19 has unleashed a slew of stressors that need to be managed within at-home work environments.
We polled our team of seasoned remote work experts to compile some of the top struggles and solutions for working from home during these extremely unique times, including some anecdotes sure to make you laugh (or maybe cry)..
Share your remote work hacks with us on Twitter @JoinTerminal.
---
The struggles
When we surveyed our team, three main challenges surfaced for working from home today: adjusting to new communication, maintaining productivity, and finding balance.
1. Adjusting to changes in work communication
When it comes to communication, there's certainly an adjustment period to adapting to the many channels of digital communications, and also to individual team member's unique communication preferences. One team member highlighted that getting accustomed to everyone's remote communication styles and workflows has been one of the biggest initial hurdles, while another team member highlighted that with 24/7 channels such as Slack taking place of in person exchanges, learning to adapt to an increased communication volume was a puzzle in itself.
Initially I struggled with understanding how much communication should occur so that my manager and team would know I was productive on any given day.
2. Maintaining productivity and focus
From Zoom call fatigue to managing the increased number of emails, video conferences, and Slack messages, keeping focus on the execution side of work can be a struggle. Additionally, with negative news about COVID-19 "inundating our lives," team members at Terminal are feeling the impact on their ability to stay focused on work with the larger global context of the pandemic.
3. Finding balance with limited ways to decompress
With in person social activity and interactions removed, striking the right work/ life balance has been hard. One team member shared, "Not being able to decompress after work at the gym, with my usual self-care needs has been a struggle." Another wrote about their continuous effort to find a healthy balance between work and life now that everything is converging in the same space.
It's hard to find enough time to do everything; be on top of work 100%, be with my child 100%, take care of my health 100%, it feels like something always has to give.
---
The solutions
Given some of these unique obstacles impacting remote work during a pandemic, our team also pulled together a few key tips for maintaining productivity, efficiency, and sanity while working from home.
1. Create clarity in work priorities and goals
With teams working across time zones and a variety of project management and digital communication tools, it's important more than ever to get very clear on work priorities each week. One team member emphasized how weekly goals have helped to create a sense of accomplishment and momentum. Some have even started an "accomplishment journal" to help track small weekly wins and break the sense of every week feeling the same.
2. Get clever with calendar and scheduling hacks
Calendar management is key when needing to self-manage and self-motivate. Tactics such as time blocking have been useful for many people on our team, "Time blocking, making it public on my calendar, being very clear about when work starts/ends, creating more deadlines for myself and my projects, and ensuring I have time away from the computer (e.g. eating lunch, reading a book at the end of the day), have been essential."
I live by my calendar! I map out what I want to get done in a day the morning of or night before. It's easy to lose track of productivity when home so having a set agenda for my day keeps me on track. And it also allows me to breathe and take breaks.
3. Build an intentional at-home workspace
From dedicated desks and yoga ball chairs, to multiple monitors and investing in strong wifi, our team stresses not to underestimate these factors while setting up a productive home office. Across the board our team shared that it is essential to create a space that you love showing up to, and especially when needing to work from home for prolonged periods of time like at present. Some of our team members have gone to considerable lengths to make a home office that lights them up, as one team member shared.
Create a workspace you're excited to be in; mine includes photos, fake plants, candles, a salt lamp, a personalized mousepad, and an essential oil diffuser!
4. Consistently get exercise and physical activity
With work and life all happening under one roof, it's critical to make time to close the computer, take a breather, and move your body. One team member reported mixing things up by taking internal team calls from their phone so they could go walking outside, get some sunshine, and take a break from the screen. Micro workouts have also become popular with our team, such as brief walks in the morning and afternoon, and doing daily yoga stretches between meetings, with the biggest named benefit being on supporting mental health and focus.
How have you been optimizing your remote work set up and habits? You can tweet us at @JoinTerminal and access more remote work advice from our team of experts here.