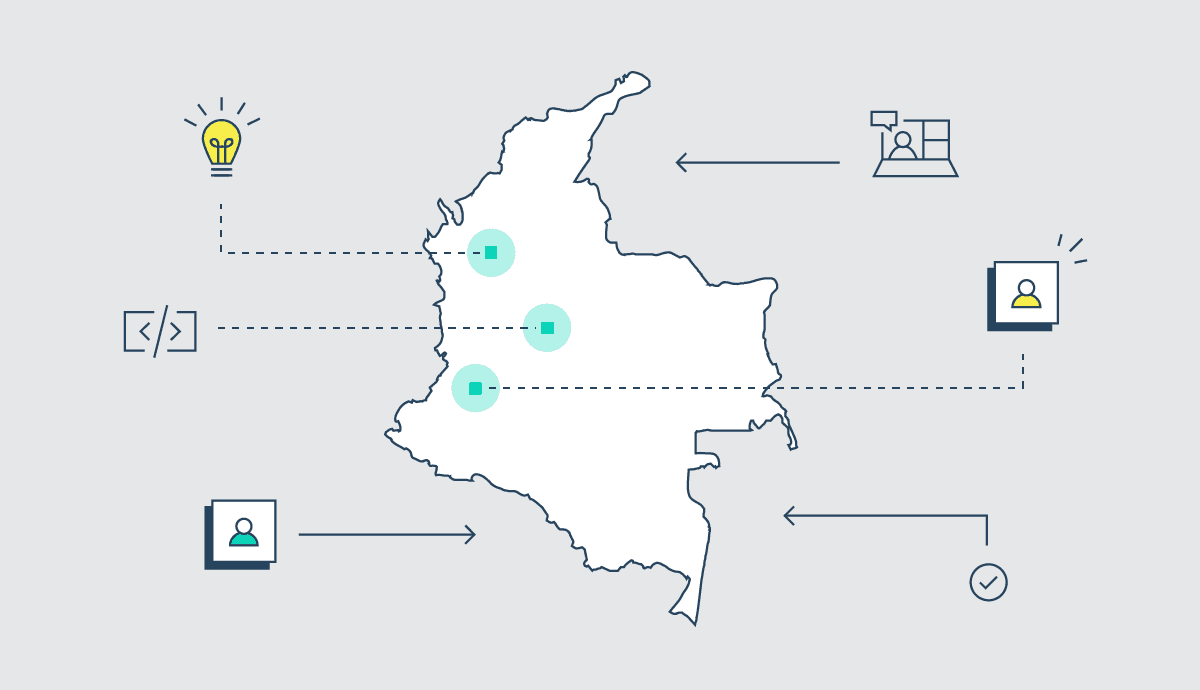 Talent markets | Blog Post
An inside look at Colombia's hottest cities for engineering talent
If you haven't been keeping your finger on the pulse of Colombia's rising tech ecosystems, now's the time.
Years ago, Colombia's government began dedicating significant investments towards building the science and technology sectors of their economy, and these actions have remained strong today–and are paying off.
Across the board, the country's three largest cities—Bogotá, Medellín, and Cali—are seeing rising annual numbers that indicate technology sector growth: local presence of US tech firms, volume of startups, number of graduating STEM professionals, and local VC investments.
For all these reasons, it's no surprise that Colombia has risen to become Latin America's 3rd largest and fastest growing tech talent hub, with more than 100K highly skilled engineers, many of whom have experience working for successful startups like Rappi, Platzi, and Twilio.
Colombia's biggest cities each house prestigious universities and tech bootcamps, and 66% of the country's engineering talent pool holds advanced degrees in computer science or related fields.

Ranked as the fourth highest country in LATAM for Internet users, Colombians are tech savvy and plugged into cycles of technology innovation around the world. This is all helping Colombia become a country known for being fertile ground for startup growth, with a population that embraces entrepreneurship much more than many of the country's neighbors.
Colombia is also making a name for itself as a prime location for US companies to tap into highly-skilled remote technical talent, with a majority of these individuals living in the country's three hottest cities for tech talent: Bogotá, Medellín, and Cali.
Here's a deeper look into these three growing tech talent ecosystems and the potential they hold.
---
Medellín: The innovation-minded hub of Colombia
Today, Medellín, Colombia is the country's fastest-growing tech hub, and also one of the most affordable talent markets in LATAM. This city is extremely startup, entrepreneur, and remote work friendly, with numerous coworking spaces and accelerators throughout the city. Not to mention that local rent is 20-30% lower than in Bogotá.
Many big-name Silicon Valley tycoons are picking up on Medellín's potential.
In 2019, serial entrepreneur Andrew Ng announced plans to open second offices in Medellín for his company's Deeplearning.ai, AI Fund startup studio, and Landing.ai. Ng explained his reasoning to TechCrunch reporter Frederic Lardinois, "I see early signs of momentum for Colombia being a talent magnet both regionally and globally." He also expressed the importance of exposing teams to global ideas and workforces to spark further innovation.
Medellín is also known for it's younger talent pool, which some believe helps with the city's innovation-oriented mindset. The city also has 80 higher ed institutions, which have been producing 13% of all Colombian graduates for the past 10 years.
Looking into the future, Medellín has an exciting 2020-2030 development plan to add 20,000 new technology jobs in the next four years, with a focus on transforming the city into "the Valley of Software for LATAM." For good reason, strong tech talent are both trained in and attracted to this city.
Bogotá: The capital city launching startups with legs
Colombia's economic capital, Bogotá, has grown to become one of the world's most affordable and high quality talent markets.
Similar to Medellín, Bogotá is fast-growing and has a unique entrepreneurial culture, however, Bogotá houses a few more high-profile startups than Medellín, which is still a younger market.
Notably, Bogotá is home to the mega-successful on-demand delivery app startup, Rappi, and also cloud kitchen concept startup Muy, which raised $15 million USD in their series B in 2019. Also in 2019, local Bogotá startups Ruedata and doc-doc won spots as two of the 9 companies accepted into 500 Startups LatAm cohort.
The city's horizon for continuing growth is promising. Just recently, the famous Devcon summit selected Bogotá as the conference's host city for 2021, which is a big deal for this emerging hotspot.
Carolina Duran, District Secretary of Economic Development was recently quoted in an article highlighting the significance of the decision for Bogotá.
"Devcon 2021, more than an event, is the opportunity to capture global talent and generate new ventures and developments with a highly qualified talent base that already exists in the city and with the intention that they can be installed permanently in Bogotá," said Duran.
Considering Bogotá's track record of growth, being selected for Devcon 2021 isn't a huge shock. In the past 10 years, Bogotá's GDP has grown 3.6% (far above the LATAM average of 2%).
Santiago de Cali: A small tech scene with big potential
The city of Cali is not only the salsa dancing capital of the world, but as Colombia's 3rd largest city, it is also on the map as one of Colombia's fastest growing (yet small) tech hubs.
Cali's cost of living is even more affordable than Medellín, and also a less competitive hiring market than nearby capital city Bogotá, making this an attractive location for hiring affordable and skilled engineering talent. The local talent market in Cali is known for having strong DevOps hires, and Cali's globally ranked Universidad del Valle, Cali is fueling the talent pool.
While Cali doesn't have the tech ecosystem size of Medellín or Bogotá, it is certainly on the uptick. In 2017, Cali hosted its first Startup Weekend and startup-encouraging coworking spaces like El Lab (which houses about 40 tech sector startups) are popping up across the city.
The city is expected to soon follow in the footsteps of Medellín's growth, and the Cali Chamber of Commerce is stepping in to help further push the city in this direction. With events and programs built to "Identify, promote and improve the skills of dynamic entrepreneurs in the region," the community of tech talent and startups is continuously growing in Cali.
With the International Center for Tropical Agriculture located in Cali, Colombia, it's possible this city could also become a hub for entrepreneurs and tech talent focused on innovations in the future of food, sustainable agriculture, and regenerative studies.
Each of these Colombian cities is home to top notch (and affordable) technical talent, with budding local ecosystems that are gaining more attention, investment, and promising startups each year.
If you're curious about growing a remote engineering team with elite Colombia tech talent, reach out to one of Terminal's global recruiting experts to learn even deeper market insights.