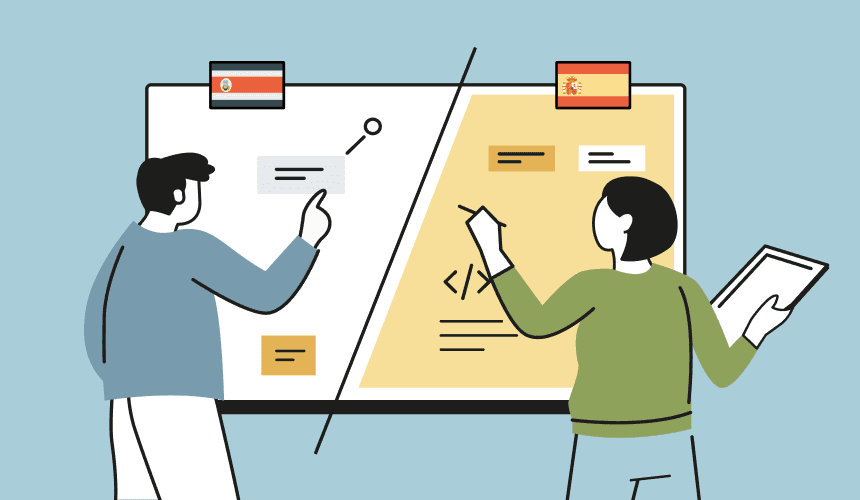 Hiring + recruiting | Blog Post
Terminal Expands into Spanish and Costa Rican Engineering Markets
Terminal offers high-growth tech companies access to some of the globe's most elite engineers in remote markets like Poland, Mexico, Canada, Chile, and Colombia. The strategic expansion into Spanish and Costa Rican talent pools will strengthen our ability to help startups overcome local engineer shortages. Hundreds of thousands more capable, full-time, time zone-aligned engineers will now be available for hire through Terminal, and engineers in Costa Rica and Spain will be able to find opportunities at some of the top tech companies in the US and Europe.
"With this expansion, Terminal will grow its presence in both Europe and Latin America in order to offer elite full-time, fully integrated technical talent to high-growth companies in the United States and Europe. Earlier this year we entered the European market with our expansion into Poland. Based on strong demand for even more talent, I'm excited to continue our growth efforts in Spain. In addition, we continue to add new markets in Latin America as North American companies have realized the depth of remote talent in the region and Terminal's ability to quickly scale teams with dedicated engineers" says Clay Kellogg, Chief Executive Officer at Terminal.
Spain is home to some of Europe's most experienced engineers
With an estimated 250,000 engineers, Spain is home to one of Europe's largest tech talent pools, and that number grows larger every year. Spain's high tech talent availability and focus on education and training make it a great location to scale a tech team. Spanish engineers have a median experience of 10.5 years and they rank in the top twenty of HackerRank's ranking of the world's best developers.
The future is bright for the Spanish tech landscape with talent poised to explode over the next decade. Last year, Prime minister Pedro Sanchez announced a ten-year plan to attract startups to the nation with tax incentives and a variety of measures aimed at shrinking the time and cost of starting up in Spain. That also includes visa reform: A new startup law aims to attract digital nomads and international talent by making it easy for remote tech workers to legally live and work in Spain.
That's great news for tech companies, because the country has some natural advantages for helping engineers collaborate remotely. With some slight augmentation to work schedules, there can be a four hour overlap between Central European Time and Eastern Time working hours, facilitating alignment for remote work. And when teams need to meet up in person, international travel is easy. The Barcelona airport, for example, offers direct flights to San Francisco, New York, Latin America, and most leading European tech hubs.
Costa Rica is a hotbed of highly skilled engineering talent
When it comes to tech talent, Costa Rica is a powerhouse. The country invests 6.7% of its GDP into education, which is nearly 2% more than the United States, and boasts the highest literacy rate in Latin America. It also produces 7,000 graduates every year in technology, engineering, and mathematics – 37% of whom are women – and its digital tech labor force grows 7.6% annually.
Costa Rica's engineering talent has attracted significant international interest, making it one of Latin America's buzziest tech hotspots. In 2020, Microsoft announced that it was expanding its operations in Costa Rica to over 800 employees, and Intel chose Costa Rica as the site for its MegaLab, which employs over 900 engineers. They're not alone: Tech leaders like IBM, Accenture, and Hewlett-Packard have all set up Costa Rican hubs.
Expansion into Costa Rica was an obvious next step for Terminal not just because of the country's high concentration of elite talent; it's also easy for American engineers and Costa Rican engineers to work together. During daylight savings time in the United States, Costa Rica lines up exactly with Central American Time, and the nation ranks fourth in Latin America for English proficiency.
Terminal's newest remote hubs
We're excited to match first class talent in Spain and Costa Rica with top tech companies in the US and Europe, and thanks to our extensive research, we know that these talent markets will be a perfect fit for our customers.
As with all of our launches, our expansion in Spain and Costa Rican will be powered by local recruiting experts who have a deep understanding of talent markets, labor laws, and cultural norms. They'll work side-by-side with our clients to build remote teams that can help companies innovate and grow.
Terminal's goal is not only to connect fast-growth companies with local engineer talent; it's also to create new job opportunities for people living in Spain and Costa Rica. Working for an American tech company can boost an engineer's career and give them the chance to solve some of the world's most pressing problems.