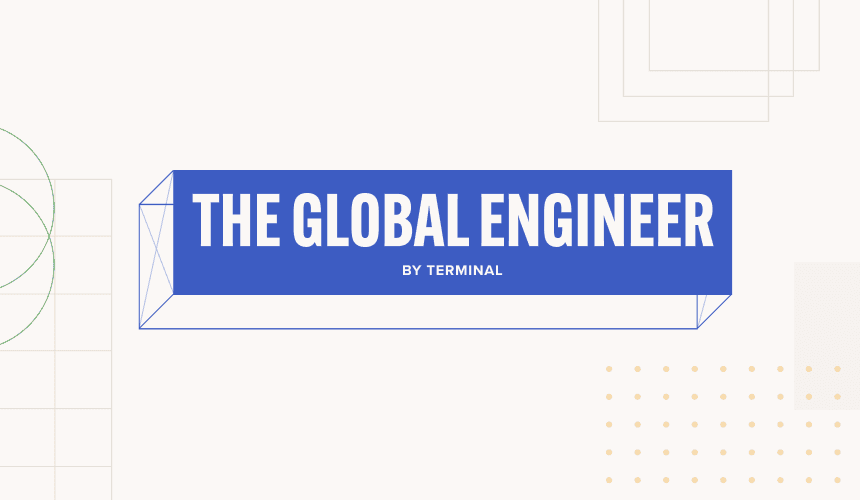 Remote how-to's | Blog Post
Seven Key Takeaways from The Global Engineer
Today, Terminal hosted The Global Engineer, a remote career summit for Canadian and Latin American engineers. Through a series of inspiring panels, attendees heard practical tips on landing remote roles and what software engineers can do to get ahead.
Engineering thought leaders from Affirm, Shopify, Tile, Bungalow, Handshake, Hims & Hers and more offered the inside scoop on the future of remote engineering and how to stand out from the competition when applying for high-impact roles. Below are a few quick highlights from the sessions.
1. Ask good questions during interviews.
"If you can show proactivity throughout the hiring process as a candidate, you're one step ahead." – Duncan McDowell, VP of Engineering, Bungalow
"It's considered a strength when you influence the interview process so that you're evaluating the company as they evaluate you." – Asif Makhani, CTO, Handshake
2. Curiosity > specific skills.
"I absolutely value people who learn and seek to learn, who demonstrate a capacity and a curiosity to learn above specific skills at that moment, because they will evolve constantly." – Dr. Steven Woods, CTO, Inovia Capital
"I look for three qualities [in hires]: grit, intelligence and communication… Intelligence being, not that you have to know everything, but you have that capacity for learning, picking things up quickly and iterating." – Alex Millar, CTO, Bonfire
3. Effective communication is key.
"Communicate openly and be honest. Be open to talking about [issues] and reach out to teammates. 'Hey, I'm blocked with this, can you help me?' This kind of skill helps you to have a good environment with your team. It's the best scenario." – Mayra Rodriguez, Senior Full Stack Engineer, Tile
"Communication doesn't always mean verbal or pronunciation. For us, it's who can clearly articulate their thoughts and perspectives, whether it's written or otherwise. It's not so much about the actual pronunciation but moreso about the actual ideas, context and knowledge." – Henry Shi, CTO, Snapcommerce
4. Own your mistakes.
"Anybody you're going to be telling, has made significant mistakes previously… To me, making a mistake can be incredibly valuable. If you're thinking about these things it's because you care. Honestly, you've now learned and it's highly unlikely that you'll make that mistake again. And that's so valuable to us, leading teams." – Duncan McDowell, VP of Engineering, Bungalow
"Everybody is invariably going to make mistakes, it happens. The big thing you need to do – you have to have integrity. Do the right thing, even when no one is looking. If you make a mistake or have an issue, you have to own up to it. Doing that builds trust [with your team]." – Alex Millar, CTO, Bonfire
5. Find your voice and ask for new challenges.
"Reach out to your managers. Their job is to keep pushing you to do your best. They will always have confidence in you. If they're confident in you, why can't you be the same? Just go for it and speak up." – Bárbara Martínez Brina, Frontend Software Engineer III, Armory
"Start by believing in yourself. It's ok to raise your hand, even when it's scary, maybe especially when it's scary. Ask for that next challenge. Ask to lead that project. It is ok to ask for help, to find an ally, to team up with a colleague that you bounce ideas off of and support each other in group settings. There's no shame in asking for help and building that support system." – Asif Makhani, CTO, Handshake
"To grow in your career, you have to embrace things like being a mentor and mentee, constantly learning, teaching and asking questions until you're the person people go to for answers… There's no such thing as the 10x developer. You aren't going to succeed in isolation, so make your goals clear from the beginning and work toward it." – Samantha Campbell, Senior Software Developer, Bungalow
6. Diversity is a strength.
"A lot of our customers are folks who are underrepresented. Having a diverse background of people and employees who have that perspective, who can help us see the whole spectrum of customers we have, is really important and it helps us make better decisions." – Henry Shi, CTO, Snapcommerce
7. For your next role, think outside the box.
"There are a lot of great remote companies all over the world. That's something that people should consider. Expand your horizons and see what's out there beyond the five first names that come to mind. Because there are a lot of great companies that offer different types of learning experiences." – Henry Shi, CTO, Snapcommerce
"Take a leap of faith. You can work with any company in the US or the world if you have the right skill set. It has nothing to do with the place you live." – Arnoldo Montaño, Frontend Developer at EasyKnock
"The impact and how it has changed my career has been considerable… Even what I've been doing in the last couple months, advising companies in Latin America and in the States, has a lot to do with what I did at Terminal and Hims, being part of that. Having a reasonable amount and even a life-changing amount of equity and influence, or cred, it's something that is hard to put into words." – Vicente Plata, Tech Lead, Shopify
"At a startup, every employee can wear many hats. You have the opportunity to define your own job description, and I find that to be very empowering." – Francois Layton, Engineering Lead, Hims & Hers
Ready to land an exciting new role? Create a profile with Terminal to see exclusive remote engineering opportunities and find your dream job.