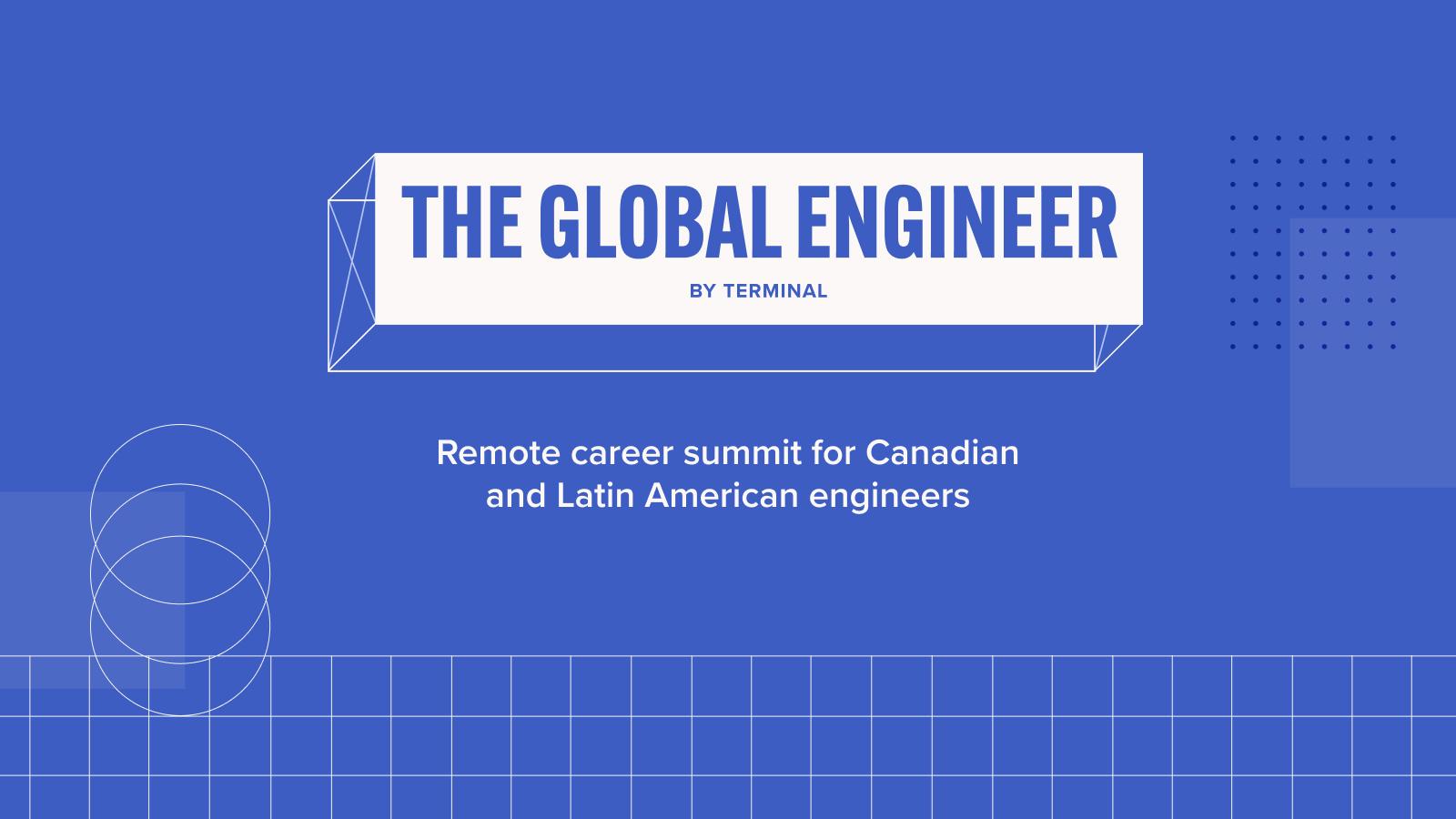 Engineering leadership | Blog Post
Don't Miss Terminal's Global Engineer Career Summit
This is the time for remote engineers to shine: With so many tech companies embracing remote work and hiring remote teams, global remote engineers are in demand – and now you get everything you need to level up your career at one exclusive event.
We're excited to announce The Global Engineer, Terminal's remote career summit for Canadian and Latin American engineers taking place January 20, 2022, at 10 am PT / 1 pm ET. 
---
Through a series of inspiring panels a breakout session, you'll learn what actually goes on at fast-growing tech companies and what you can do to get ahead. Engineering thought leaders from Affirm, Shopify, Tile, Bungalow, Handshake, Hims & Hers and more will give you the inside scoop on the future of remote engineering and how to stand out from the competition when applying for high-impact roles.
Who should attend?
The Global Engineer is designed for engineers based in Canada and Latin America interested in working for tech companies in Silicon Valley and other American tech hubs who want to explore new opportunities and elevate their careers.
What will I learn?
Topics will include:
What it's really like to make an impact as a remote engineer at a startup. Hear from companies hiring full-time remote engineers in Latin America and Canada, and learn what it's like to be a part of these fast-moving, innovative teams.
Strategies to make the most of a remote opportunity. Get advice on how to thrive as a global engineer, from remote communication practices to sharing your work with confidence.
What the best engineering teams look for in remote candidates. Hiring managers from cutting-edge tech companies will share the skills and qualities they want in job candidates and their tips for standing out.
How to make a great impression on engineering leaders. Connect with your peers and with engineering leadership from all over the world. Make an introduction that helps you land your dream job.
Ready to level up your career?
Reserve your spot now. Registration is free and only takes a moment.