Ana changed her life for the better
Meet Ana Barrios, Software Engineer and Team Lead at Everly Health via Terminal in Chihuahua, Mexico. Prior to joining Terminal, Ana experienced working for a local outsourcing agency and found it frustrating to have multiple bosses with different expectations. Ana wanted to work for an organization where she could have a close and direct working relationship with her boss. With Terminal, she found the perfect combination of working for a U.S. company while based fully remote in Mexico. One of Ana's professional goals was long term growth with a company that utilizes modern technology. She now has a clear career path, and was promoted to team lead as a result of her hard work.
Two other major differences between working for Terminal and working for other companies were the transparency and interview process. Ana was able to have in depth conversations with her Terminal recruiter regarding her salary expectations. She didn't have to worry about negotiation and got everything that she asked for, no fighting required! Something that Ana values about her role is that she can manage her own schedule, allowing her time to enjoy some things that she likes most, travel and puzzles.
Everly Health found an employee who is passionate and committed to making a difference on the projects she works on. Ana is an engaged and inclusive leader. Ana also has the opportunity to shine in her leadership role, which she was never afforded before. Ana's increased salary has also helped her purchase her first home, a feat that she is proud of, especially as a single empowered woman.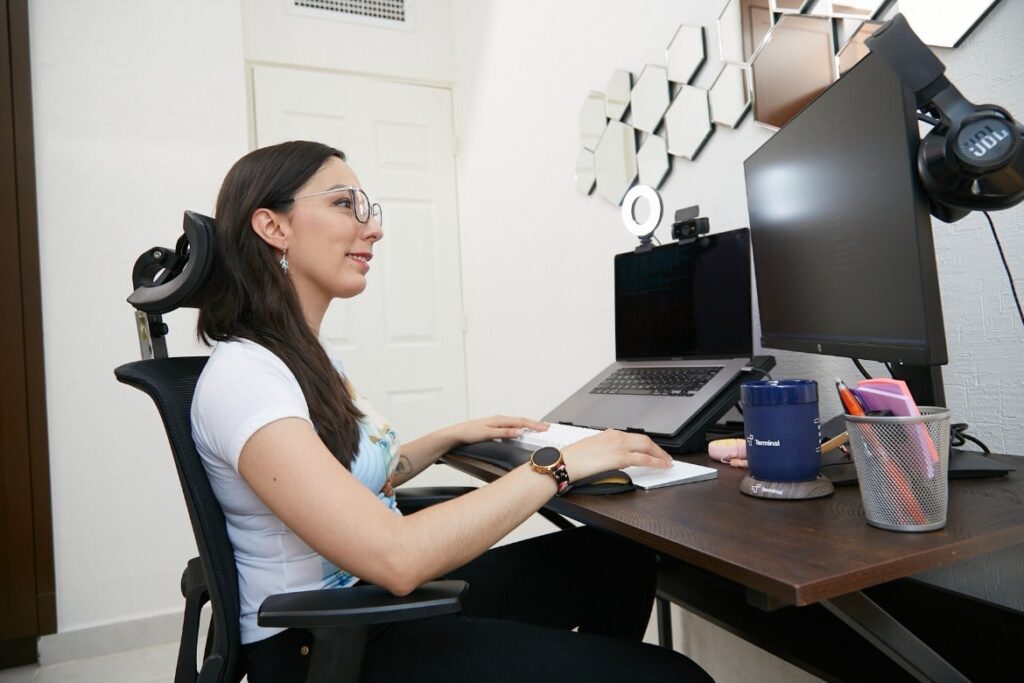 Te presentamos a Ana Barrios, Software Engineer y Team Lead en Everly Health via Terminal desde Chihuahua, México. Antes de unirse a Terminal, Ana tuvo la experiencia de trabajar para una compañía local de outsourcing y encontró frustrante contar con múltiples jefes con expectativas diferentes. Ana deseaba trabajar para una organización donde pudiera tener una relación cerrada y directa con su jefe. Con Terminal, encontró la combinación perfecta para trabajar en una compañía en Estados Unidos viviendo desde México. Una de las metas profesionales de Ana, es el crecimiento profesional a largo plazo usando tecnologías modernas. Ahora cuenta con un plan de carrera claro, y fue promovida a líder de equipo como resultado de su trabajo.
Dos diferencias adicionales a resaltar entre trabajar para Terminal y trabajar para otras compañías es la transparencia y el proceso de las entrevistas. Ana pudo contar con un proceso de reclutamiento transparente y tener conversaciones detalladas con su reclutadora en Terminal sobre sus expectativas salariales. Ella no tuvo que preocuparse por negociar en sus términos, ya que logró obtener todo lo que pedía, sin tener que lucharlo. Algo que valora Ana de su rol es la flexibilidad de su horario, lo que le permite disfrutar de actividades que disfruta mucho: los viajes y los rompecabezas.
Everly Health encontró una empleada que es apasionada y comprometida con marcar la diferencia en sus proyectos y busca posicionarse como una líder inclusiva. Ana tiene la oportunidad de brillar en su rol, algo que no había podido hacer antes. Ana logró incrementar su salario, lo que le permitió comprar su primera casa, de lo cual se siente orgullosa, especialmente como una mujer soltera y empoderada.