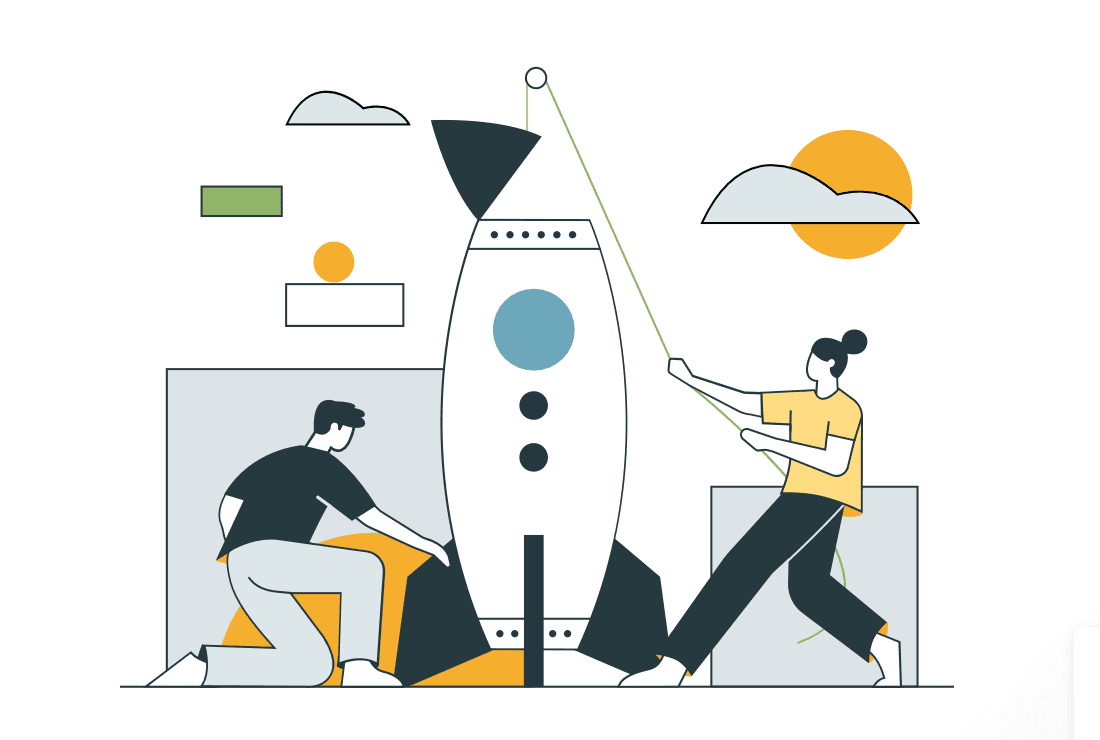 Hiring + recruiting | Blog Post
Unveiling the smarter, global talent platform for hiring engineers
Learn how Talent Hub by Terminal can transform your next talent search
At Terminal, we have been helping scale-ups such as Handshake, Transfix and Hims build full-time remote engineering teams by providing multi-market global sourcing and giving them an unfair advantage in finding the right talent in the right markets to reach their goals. But, one of the main reasons why scale-ups increasingly choose Terminal is our holistic approach – a comprehensive solution to talent discovery, hiring and ongoing remote management. Why does that matter? A piecemeal solution inevitably distracts from your core business and becomes very expensive; Terminal's end-to-end platform redirects your focus back where it should be.
By doing this in a fast and cost-effective way, we have made the hiring process frustration-free for our customers. But today, we are about to make our customers' hiring process immensely easier by launching a vastly improved candidate discovery and calibration product. But first some context on our journey leading to today's launch.
Building the foundation for massive talent acquisition: Infrastructure, Technology and Markets
Over the last two years we have made significant investments in technology and infrastructure to make sourcing more effective and to accelerate the hiring process.
Built on our vast network, our proprietary talent acquisition command center and inbound candidate platform gives us an unprecedented portrait of the global engineering professional. And our network is always getting larger and smarter at recruiting the best, enticing thousands of high-quality engineers to create their own profiles, complete technical and communication assessments, and search through jobs that match their interests and background, allowing for higher match rates and faster hiring.
In addition to investments in technology, we also set out to expand our talent pool by making Terminal jobs available to developers in more markets. We entered Europe with Poland and Spain and recently added Costa Rica, bringing our total markets to 7 countries. All these efforts have resulted in a richer candidate experience, a vastly bigger talent pool seeking full-time career opportunities and a genuine affinity for Terminal by the hired candidates.
Delivering on the promise of fast, frustration-free hiring: Launching the new Talent Hub for hiring managers
We have also been making significant investments in our product for hiring managers. To empower our customers and create efficiencies throughout the entire talent discovery, hiring and remote management process, we have overhauled the product experience. Today, we are excited to announce the new Terminal Talent Hub.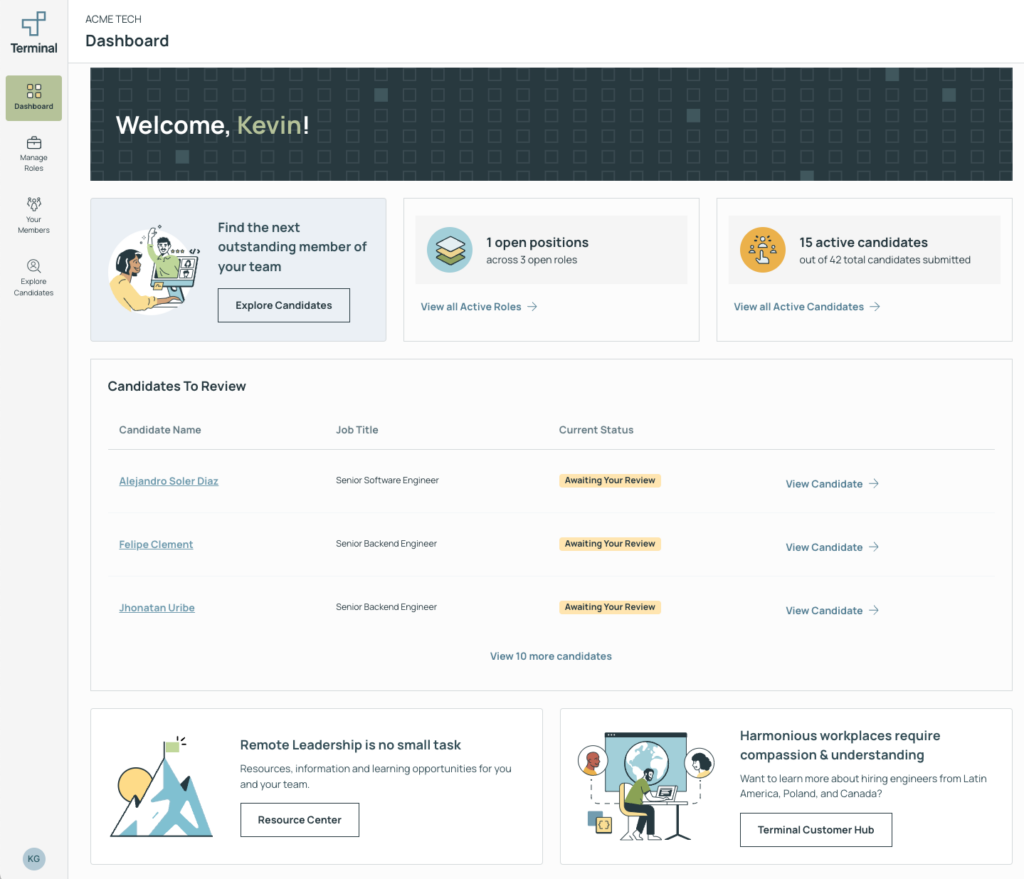 Discover candidates with on demand search
Hiring with Terminal means you will never be alone in your search for the perfect full-time candidate, and while your dedicated Talent Partner will continue to provide personalized hiring recommendations, we recognize some customers simply can't wait.
If you're an ambitious hiring manager, Terminal now allows you instant access to our always-on talent pipeline through Talent Hub to search for your next brilliant engineer. Refine your search by Job Title or specific Must-Have and Nice-to-Have Skills to find your next rockstar. Need a Full-Stack Software Engineer with 4+ years of experience, specializing in NodeJs, Python, Graphql, AWS, Docker, Elastic containers, SQL and NoSQL data bases? Try Mary G. Desperate for a Backend Engineer with blockchain and crypto experience and a skill set including Python, Java, spring-boot, Flask, Django, SQL, and Agile methodology? Meet Jason F. These are real candidates ready for hire.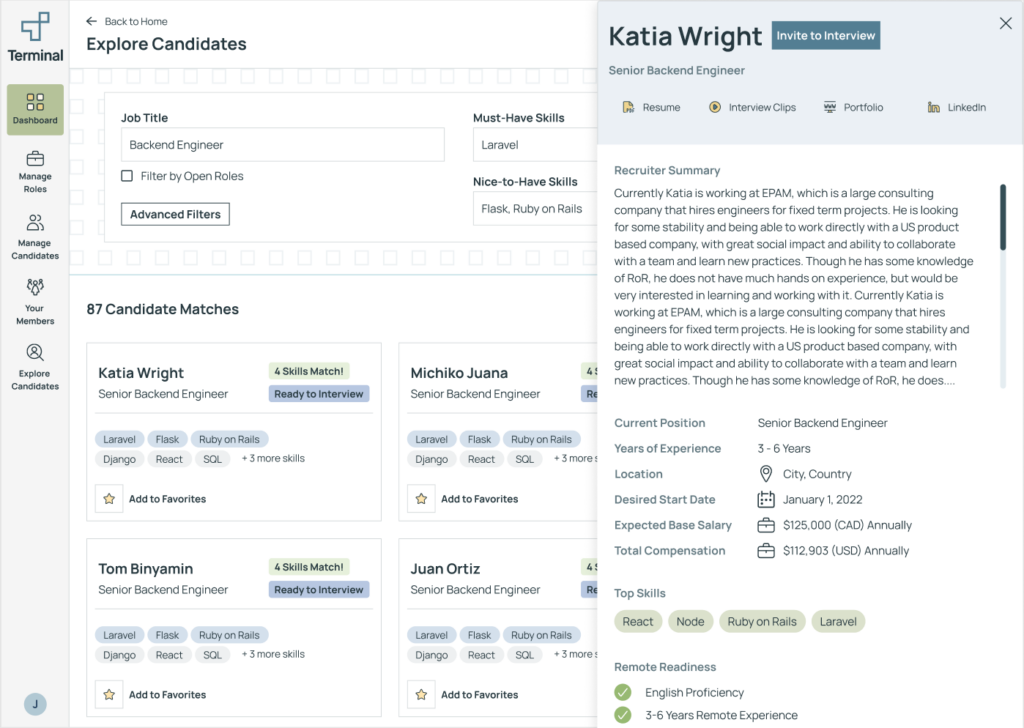 We understand 100,000+ options can feel a bit intimidating, so we want to empower your teams by putting our AI-powered matching technology to work for you. With the new release today, thanks to our predictive analytics tools powering your search, we can filter and reveal your best matches quickly. Over time, as our AI investments pay even greater dividends and our platform gets smarter, we will be adding new search functionality features based on your needs to further accelerate your speed to hire. And what's better than the flexibility of searching for candidates on your schedule? Being able to immediately invite them to interview without delay!
Create new roles at your convenience
What happens if you find a great candidate in Talent Hub for a newly approved, full-time position? No problem. We are excited to reveal that customers can now create a new role directly in Talent Hub. Using simple, intuitively designed tools, you can open any role on demand without even needing to contact your Terminal Talent Partner. After creation, invite any top prospect to interview you wish. When you work with Terminal, you are empowered to act independently, with the comfort of knowing our experts are always there for additional support to optimize all aspects of your hiring journey.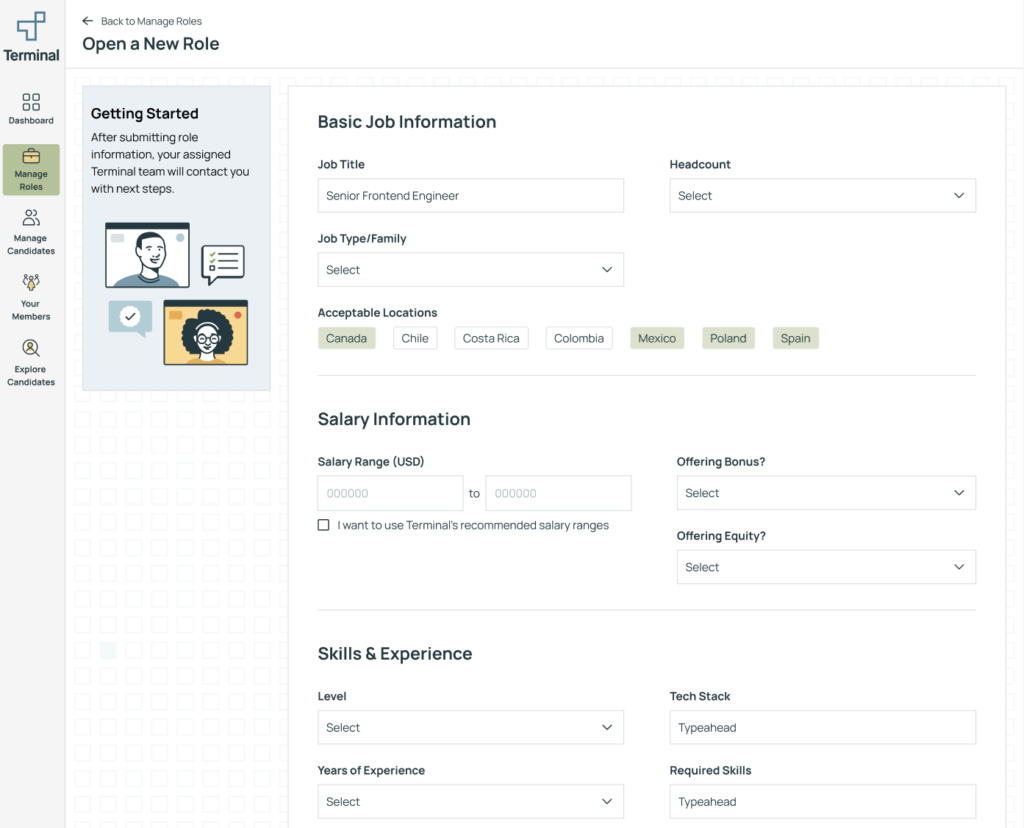 Get the full picture and fast feedback to hire at Terminal velocity
The Candidate Profile and interview feedback feature in Talent Hub equips each customer with data providing a full 360-view of each candidate to make informed hiring decisions. This centralized summary of each potential new hire provides teams with one source of truth: an applicant's resume, links to their Linkedin profile and professional portfolio and recorded videos of previously-conducted interviews. It also contains a brief work bio of each candidate, written by a Terminal Talent Expert to give you a clear view of the candidate's career and pre-interview assessment journey.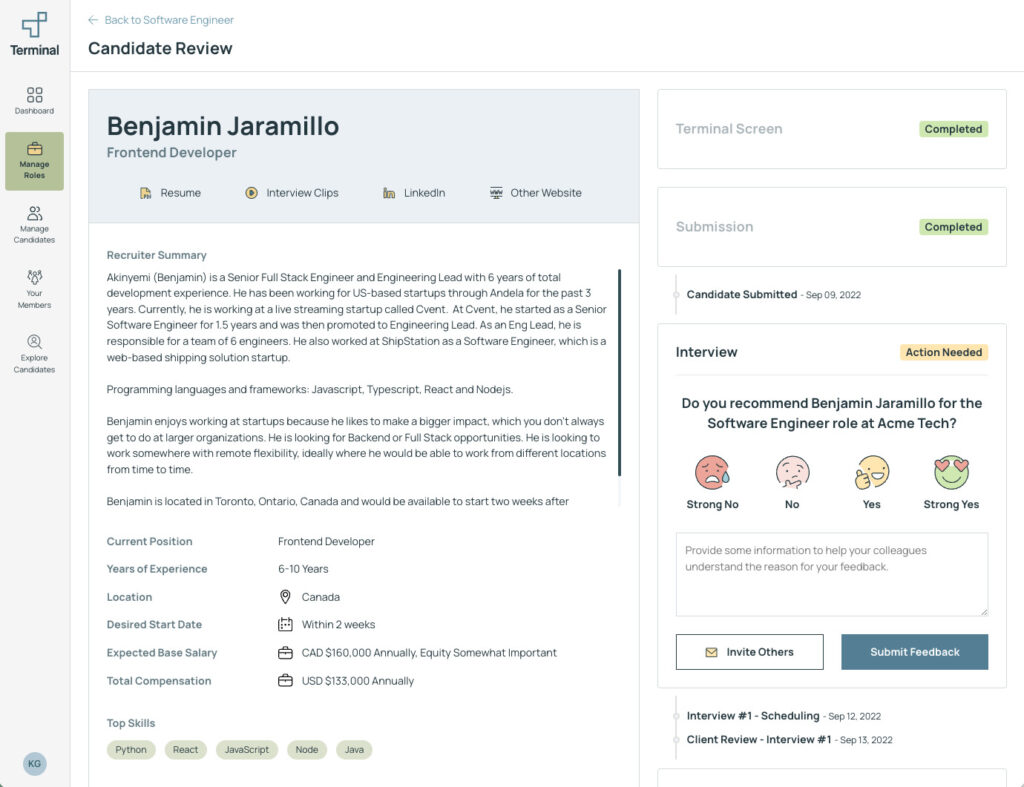 Finally, it includes a section to provide your interview feedback and the option to invite colleagues to share their feedback in Talent Hub as well. This feedback architecture consolidates all of the major details in one streamlined candidate review screen.
Plus, no more errant emails! When even a one-day delay in the hiring process could mean a candidate is no longer available, this built-in feedback system reinforces the need for speed, which is second-only to quality, when it comes to hiring a full-time, engineering team member.
Terminal: the smarter, global talent platform for hiring managers
With these new features (and more coming out later this year), Terminal is extending its leadership position in full-time, remote, talent hiring and management. If you're considering other options, we strongly recommend checking out one of our Success Stories or Why Work With Terminal to see how only Terminal can provide the end-to-end solution hundreds of companies already trust.
Book your demo today