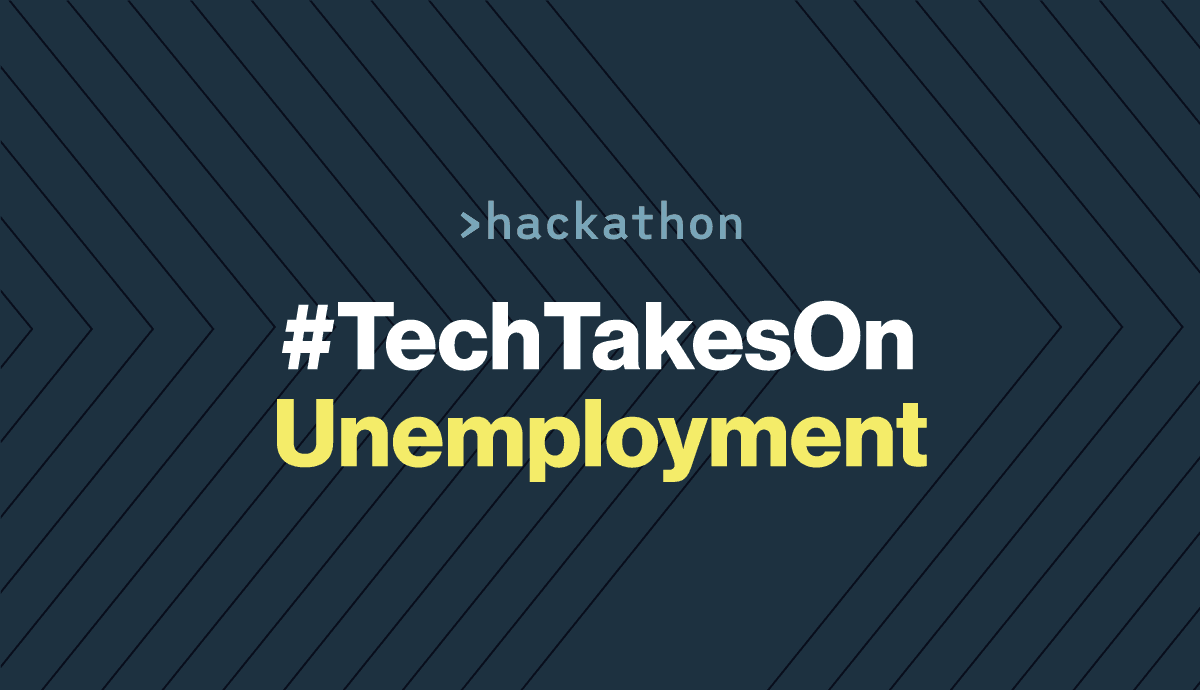 Engineering leadership | Blog Post
#TechTakesOnUnemployment Hackathon Winners
COVID-19 has ravaged the world's economies, leaving millions jobless and scrambling for economic relief. As outbreaks continue to threaten populations, governments will be forced to extend shelter-in-place mandates and some businesses will continue to shutter. More and more people are likely to find themselves unemployed in the coming months, exacerbating dire circumstances even further.
Technology has played a big role in job access for years, allowing people to explore job listings, make professional connections, find entrepreneurial funding, and explore mentorships. It's also helped keep a large percentage of the world's workforce employed during COVID-19 by making remote work feasible and rendering office closures a mere inconvenience for many of the world's tech workers.
The Terminal Tech Takes On Unemployment hackathon was conceived to find more ways for tech to expand employment opportunities during the pandemic. The global engineering community joined forces on innovative projects that get people back to work. The contest received 24 projects over 29 days, and over 230 participants created solutions that make it easier to find jobs, mentors, learning opportunities, and more. Terminal donated $6,400 USD to charities of the winners' choosing, as well as separate donations to Feeding America, Food Banks Canada, and Alimento Para Todos to support communities in need.
Here are the winners of the #TechTakesOnUnemployment Hackathon.
---
Millions of fast food employees, cashiers, and retail workers are out of work right now, an issue that's threatening the stability and security of families around the world. You don't work with the public in a service role without developing a robust set of people and problem solving skills, and so many valuable workers are sitting around with their work potential untapped.
The ResuMatch team found themselves asking: What other roles might these workers be eligible for? They made an application that analyzes the soft skills in a user's resume to recommend new career paths and surface compatible job postings. Users drag and drop a .pdf of their resume onto the ResuMatch site. ResuMatch then extracts relevant information from their resume, such as skills and experience, and parses them as text. From there, an NLP model tags it, searches a massive jobs dataset for roles that use those skills, and then predicts the top five best-matching jobs to users.
ResuMatch uses machine learning to easily and systematically broaden employment options and launch workers into careers they'd never dreamed of before. ResuMatch provides more avenues for finding employment to the people who need them most.
What's next: ResuMatch is live and ready for action! Going forward, the team plans to collect more data to improve job title classification and increase the range of job titles available.
Donation beneficiary: Shooting Stars Foundation
2nd place winner: Nadeeni
Mentorship can make or break someone's professional success. Mentorship helps people hone their skills, enhance their networks, and chart their career. But finding a mentor can be challenging, especially for people new to their fields. And for the mentors themselves, it can be hard to find ways to give back in a way that fits with their schedule.
Nadeeni was created to democratize mentorship, giving everyone an equal opportunity to form lasting professional bonds. Nadeeni is a two-way marketplace to help mentors and mentees find each other. It automatically matches people to someone in the community that can answer their questions and give them guidance. Mentors can turn on and off matching when they have spare time to help, and specify the types of topics or job functions they think they can support.
It makes it very easy for mentees to get the professional help they need. All they have to do is put in a request for what they want help with and the system finds them the right match. They then connect via a chat session with a mentor, helping them form relationships and get answers.
What's next: Nadeeni's effectiveness is directly proportional to the size of its network. The team's first priority is building a strong and healthy network of professionals onboarded in the app. The team is also going to add new features, like voice messages and file sharing, to enhance in-app connections.
Donation beneficiary: Family Promise
There are so many different job functions at any given tech company — marketing, software development, design, engineering, to name a few. It's a promising and high paying field, and even during the pandemic, employment opportunities in tech abound.
But getting the skills you need to break into tech can be challenging. People can teach themselves what they need to know from a hodgepodge of methods: reading through official documentation, watching Youtube videos, reading blogs, using education platforms, or, in a pre-COVID-19 world, taking offline courses. However, nothing beats having someone to guide you along the way.
That's where Torre Mentors comes in. Users can type in the skill they want help with, like javascript or Photoshop, and Torre Mentor gives them a list of potential mentors. Users can view the mentor's resume, check what the mentor is open to teaching, and reach out to them on Signal. It's a great way to help users solve technical issues and become better professionals.
What's next: The desktop version of Torre Mentors is ready for use. Its creator is working on a mobile version of the tool and working on inbound and outbound marketing to increase the user base.
Donation Beneficiary: Laboratoria
Honorable mention: aidBiz
The COVID-19 pandemic has ravaged small businesses. Tens of thousands of mom-and-pop shops have closed forever. And even more businesses have laid off employees, doing their best to stay afloat with little to no income. Business owners have bills to pay and staff to support, and limited resources to do either.
aidBiz is a free app that connects businesses with their customers in real-time. Businesses like salons, nail spas, and pet grooming shops can sell future services for discounted prices on aidBiz. Businesses have flexibility to create whatever promotions most fit their needs and tell customers how to redeem the services they purchase. The interface is simple and easy to use.
The app's creators conducted a survey and found that 36 out of 50 people were unaware of how many small businesses have been affected by the pandemic, and that 41 out of 50 people would use aidBiz. It's a win-win situation: Businesses get the cash they need now, and customers don't have to pay full price for services they need.
What's next: The team plans to beta-test aidBiz and release it to major app stores in fall 2020. They're currently working on expanding payment methods and building up their marketing.
Donation beneficiary: SEWA International
Honorable mention: LEAN
Due to the COVID-19 pandemic, low skill workers have lost their jobs in record breaking numbers. Because they lack professional skills that are valued by higher-paying employers, they're stuck waiting for conditions to improve, all while their families become increasingly vulnerable due to economic uncertainty.
The team behind LEAN had an idea: Connect workers with employers who are willing to train employees in new skills on the job. LEAN, which stands for Learn while Earning, upskilling All workers Now, isn't a job aggregator: Employers who use LEAN have to be willing to consider candidates without a college degree. Companies can upload their information and view current candidates, and applicants can search for companies that would be a good match for them.
What makes LEAN special is that it's built to help both employers and employees invest in each other. Employers get labor for a cheaper cost in exchange for teaching employees on the job, and employees improve their skillset and long-term job prospects, catapulting their careers into previously inaccessible directions.
What's next: The team plans to release LEAN to iOS and Android app stores soon. In the meantime, they're working on smoothing out the design and adding more features.
Donation beneficiary: Feeding America