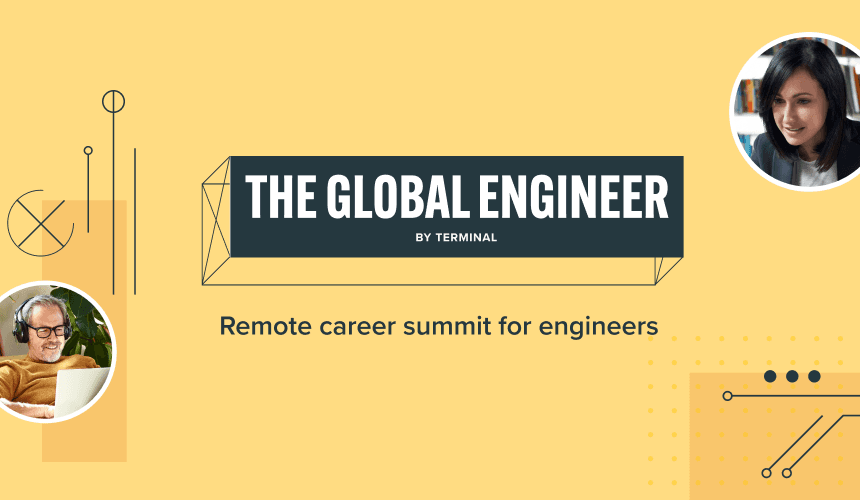 Engineering Careers | Blog Post
To succeed, engineering leaders say embrace your inner entrepreneur
Terminal hosted the second edition of our software development career summit, The Global Engineer, on May 4, Star Wars Day.
Along with plenty of puns, prizes and fun activities, we heard from amazing innovators. Brandon Moak, the co-founder and CTO who recently took his autonomous truck company public, talked about his decision to become a founder. And we learned what it's like to join a company in "hyper growth" from engineering thought leader Vicente Plata, VP-Engineering, Runway Health, who we were fortunate to hear from at our previous Global Engineer summit.
We heard inspirational conversations. Front-End Developer Mijael López told us how his personal values aligned with the work he's doing at PresenceLearning, a company that brings families live online speech and occupational therapy. And we got incredibly useful advice on negotiating for equity from Luke Beseda, VP-Talent Infrastructure, Lightspeed Venture Partners.
Other engineering thought leaders included Jesus Estrada, Sr. Software Engineer, Handshake; Veronique St-Germain, Head of Talent, 8VC; Arnoldo Montaño, Frontend Developer, EasyKnock; Caroline Simpson, Engineering Manager, Bungalow; Ricardo Cervantes, Sr. Director, Engineering, Everly Health; Andres Hernandez, Director of Engineering & Latam Site Lead, Voyager; Erin Rahnenfuehrer, Sr. Engineering Manager, Faire; Dr. Feridun Hamdullahpur, Former President, University of Waterloo; and Mike Ashbourne, Head of Recruiting, Embark Trucks.
And of course, members of the Terminal team Nabil Fahel, Director of Talent Growth; Carole Franco, Director of Marketing, LatAm; Adam Jolly, Manager, Talent Acquisition; and Priscila Valenzuela, Technical Recruiter, all helped make the day insight-packed for attendees.
Thanks to everyone who attended! Below are a few quick highlights from the sessions.
1. Joining a startup can propel your career to celestial levels.
EasyKnock's Arnoldo Montaño said, "One feature of working at hypergrowth companies is you always see the impact of your work." The challenge, he said, is that you need to find the balance between deploying with quality and agility. The business will need to grow and deliver things fast, so you need to make decisions about what to focus on and what to put aside.
2. Use "the Force" within you to land a role at a high-growth company.
During an interview and beyond, demonstrate initiative, said Voyager's Andres Hernandez. He added, "It's important to see [that employees] are able to take on responsibilities beyond what they do in their every day… It gives me an idea of where candidates can demonstrate potential in the future, so I can start assessing whether I can see the team scaling with that individual."
Show how you went beyond theory to solve a problem, said Embark Trucks' Brandon Moak. When he hires engineers, Brandon said he likes to find people who have taken a problem from start to end. Because solutions don't always work in context, he added, it's not about the "theory in the middle." Explain how you took your idea across the finish line.
3. Achieve Jedi status using your entrepreneurial side.
Bungalow's Caroline Simpson said, "Entrepreneurship or the traits associated with it, are something that will benefit a candidate." Those traits include a passion for what you do, resiliency, taking calculated risks, knowing when to cut your losses, and learning from your failures.
Runway Health's Vicente Plata said you shouldn't be afraid to take risks, especially if you're interviewing at a startup. He added, "If you let risk aversion show during your interviews, it'll be hard to land some jobs. My recommendation is, stop thinking about the typical 9-5, start thinking in terms about how you'll impact the business… How are you going to impact the business, and how are you going to contribute to this hyper growth stage?"
4. Sometimes, you have to embrace your inner rebel.
For a software engineer, that can mean going against assumptions or initial impressions that you have about your own career. PresenceLearning's Mijael López said that at least once in their career, everyone should choose a job for a reason other than salary.
"A reason [to work] stays regardless of the motivation," Mijael added. "One day you might feel motivated and the next day you don't. Why don't we go further and ask, why am I doing what I'm doing? It's great to find a reason to code everyday beyond the salary."
Lightspeed Venture Partners' Luke Beseda said you shouldn't worry about over-planning your career, adding, "Work with people who care about your success, and come to everything you do with enthusiasm, and you'll learn a bunch."
5. Curiosity can be your lightsaber.
Embark Trucks' Brandon Moak said he optimized his career for learning and opportunity. "A lot of the skills that set me on this path were built on a genuine interest and curiosity on how to build technology," he added.
Everly Health's Ricardo Cervantes said when he hires, he looks for "curiosity that leads to action." He added, "It could be from the very technical–understanding exactly how the language we're working on works, to the codebases we're working with, or how the business is going to benefit from any project that comes our way."
Ready to land an exciting new role? Create a profile with Terminal to see exclusive remote engineering opportunities and find your dream job.